Potawatomi Park Collaboration: This mural is a collaborated effort by Jenna Morello, Andre Cobre, Chris Chanyang Shim, Cameron Moberg, and Emily Ding. Best viewed in Potawatomi Park across the Iroquois River.
Cameron Moberg's first mural created in Indiana. This mural is a piece of his "Take Flight"series. Found on eMbers Venue's west wall and can be seen easily from Front and Washington Streets. From here, head north to the Front St. alley.
Indiana native METABYTE painted this piece on the back alley wall of eMbers Venue.
Local Student Trenton Musch with "Hello Spaceboy" on the east facing wall of eMbers Venue.
Royyaldog's mural on eMbers Venue east facing wall from the alley.
From the alley, the west facing wall of 24/7 Club fit is home to homage to the working class by Andre Cobre.
The first interactive mural in the alley. "On the catwalk" allows kids and adults to take "Station Stout" for a walk.
"Love is Toxic", another mural by local student Trenton Musch. According to this photo, the toxic nature of art is helping our community kids think more creatively.
Emily Ding from Texas created this large scale mural that depicts and predator/prey relationship. how does this sometimes relate to society?
Mural 10 is a collection of local artists starting with Ryan Preston and Lindsey Preston. The third component is an interactive piece.
A temporary piece started by community kids and adults we are calling "Spray it don't say it". Your voice doesn't have to only come out of your mouth. It can come from actions and creations. In this particular piece, the kid speaks art and expression.
A classic "tag" piece that expresses the essence of street art by Andre Cobre.
On the alley side of Janet's Kitchen is a cohesive collection of images By Sean Bullen that portrays classic locations of Rensselaer and representations of Midwest living.
This large scale piece by Jenna Morello depicts local Indiana cone flowers and begins the second block of the RENARTWLK. Now these beautiful blooms will always be in season…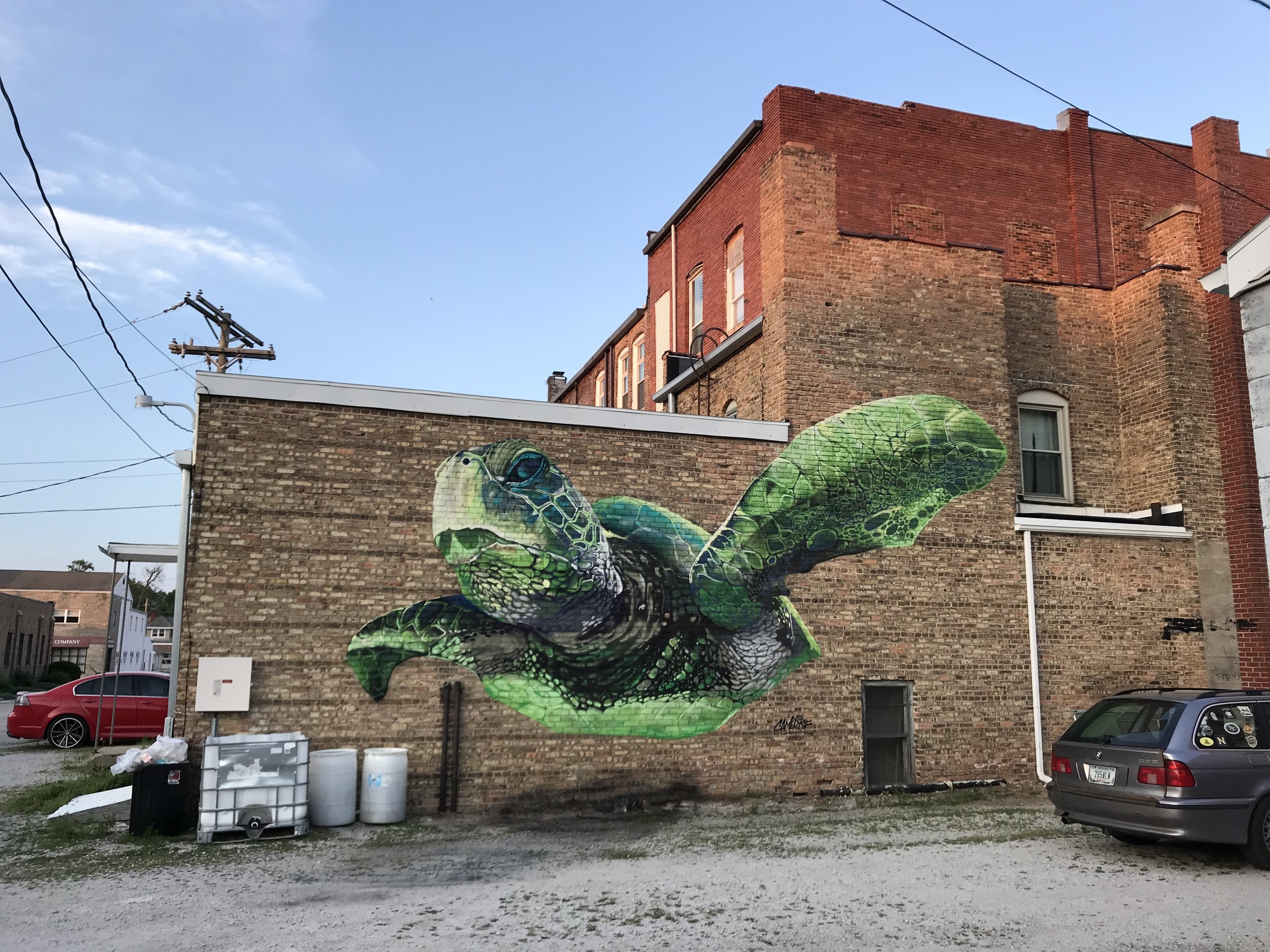 A beautiful sea turtle has made it's way to the "midcoast" courtesy of Cameron Moberg on the west facing alley wall of Ci Insurance.
Royyaldog's second Rensselaer mural is found on the north facing wall of Sean Yalaly's Edward Jones office at the end of the block 2 of REN ART WLK.
Currently off the current mural path, these interactive butterfly wings from Cameron Moberg have been a downtown favorite photo op for over a year.
There are plenty more points of interest within the REN ART WLK. Keep your eyes open and look all around to find all the hidden and not so hidden jems of the Art walk!